---
Centrally managed
Customer base and installations all accessible through the dashboard in your browser

Identifies downtime
Monitor generation to identify causes of downtime

Same day notifications
By email or

SMS

, set by importance level

Strengthen service
Same day awareness of downtime ensures proactive response to customers' profitability needs

Increase install base
Inverter independent, support all Solar PV owners

Added service tools
Solar PV owners have a dedicated page to view their energy activity.

Product info
A Wattson Professional account is accessed and managed through a central web-based portal. The remote capability of the system ensures a high level of service is maintained for customers. The installer's main dashboard is the view shown below, an overview of all installations by location and colour coded by status: red, amber and green. Status levels are set by the administrator: high, medium-low and OK, and correspond to various alert settings. Installers click through to their various sites from here.


For each site, Wattson Professional continuously monitors and records energy generated from the Solar PV system, identifying generated electricity or any downtime. The dedicated installer view shows all they need to know at a glance.
Installers are able to define critical alerts and warnings as well as specify alert conditions, frequency and preferred delivery method (SMS or E-mail). When setting alerts, installers can choose which sites are included in the alert by single site or by groups. They also choose to whom the notification is sent to, be it an individual user or a group of users, to provide appropriate maintenance support.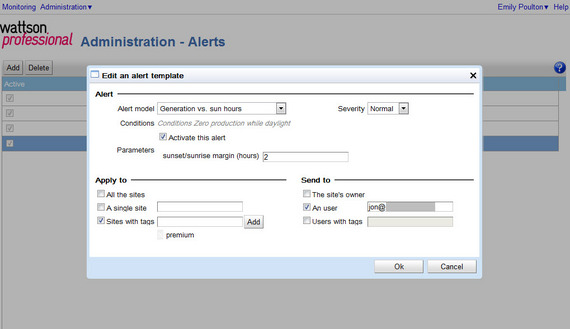 Wattson Professional is an ideal tool for strengthening the installer – customer relationship as it provides a 'My Solar' tab where homeowners can view and save their daily data from the comfort of their own home. The installer administrator decides what data their customers can access including weather forecasts and a daily breakdown of energy generated.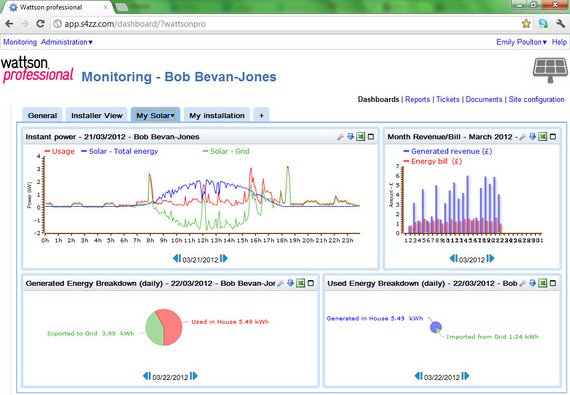 The Wattson Professional product brochure can be viewed and downloaded here.

How it works
• Wattson Professional uses sensors that clip simply around the outside of electricity cables to get its power data. The data is then sent out wirelessly from the Wattson transmitter through the communications modem ( GPRS or WiFi) to the Wattson Professional servers.
• The installer dashboard is web-based so can be viewed on any internet enabled device from the office or on the move.

More info
• Tech specs available here.

---
Contact us | Support | Where to buy | Latest news